Configuring the decryption of multiple disk images has long been a headache for computer forensics. In the past, they needed to specify the settings for each image, depending on the FDE vendor, in order to set up the password recovery or decryption process in Passware Kit. The new 2023 v1 simplifies this configuration by introducing group settings for decrypting multiple disk images in Batch Mode.
The new version of Passware Kit also supports AxCrypt files and instantly decrypts the latest versions of VeraCrypt using the improved memory analysis option.
Simplified setup of decryption for multiple disk images
The decryption of multiple disk images has become easier to configure! Passware Kit 2023 v1 features group settings for decrypting multiple disk images.
The software groups the disk images by encryption type and allows users to apply the same password recovery or decryption settings to all the images within the same group.
This option is available for BitLocker, LUKS, and Symantec/PGP WDE. Passware Kit is also capable of setting up the batch password recovery for the specified accounts in multiple disk images where applicable.
Password recovery for AxCrypt
Passware Kit now recovers passwords for files encrypted with AxCrypt v2, for both Free and Premium accounts.
AxCrypt encrypts all the files with a single account password. This means that the password recovery feature for any encrypted file provides access to all the files of the same account, assuming that the account password was not changed by the user.
Instant decryption of the latest VeraCrypt versions via memory analysis
Passware has updated its Windows memory analysis option such that it is now capable of extracting expanded encryption keys required for decrypting the latest versions of VeraCrypt.
Additionally, beginning with version 1.24, VeraCrypt introduces a mechanism to encrypt master keys and cached passwords in RAM. Passware Kit 2023 v1 now supports this feature and decrypts the keys, providing instant access to the VeraCrypt volumes.
Updated Bootable Memory Imager
Passware Bootable Memory Imager now saves memory images in a new format that preserves the RAM layout. This provides additional metadata for the advanced Windows memory image analysis and allows users to instantly decrypt volumes created by the latest versions of VeraCrypt.
GPU acceleration improvements
In some cases, time-consuming password recovery processes lead GPUs to overheat and might even result in hardware damage. High GPU loading provides maximum password recovery speed, but may cause system problems including overheating, system restart, application errors, or stability and usability issues.
Passware Kit now allows users to establish a GPU utilization level and a temperature threshold that disables the GPU automatically if and when it reaches the specified temperature.
Improved Rainbow Tables attack
Rainbow Tables for Office were updated to increase the success decryption rate for MS Excel and Word files to 99.8%.
The Rainbow Tables attack of Passware Kit Forensic and Business editions now features an improved integrity check for the imported tables.
New Distributed Password Recovery
[Beta]
We are pleased to announce a completely redesigned version of Distributed Password Recovery!
This version allows multiple attacks to run simultaneously and reduces GPU idle time by optimizing the management of the computational resources. It is now possible to assign or re-assign Passware Kit Agents to any Passware Kit Forensic instance within the local network. As a result, users no longer need to customize Passware Agent settings on each computer.
We invite all current Passware Kit Forensic users to try the Beta version! Details are available in the Passware account.
New product: Passware Kit Ultimate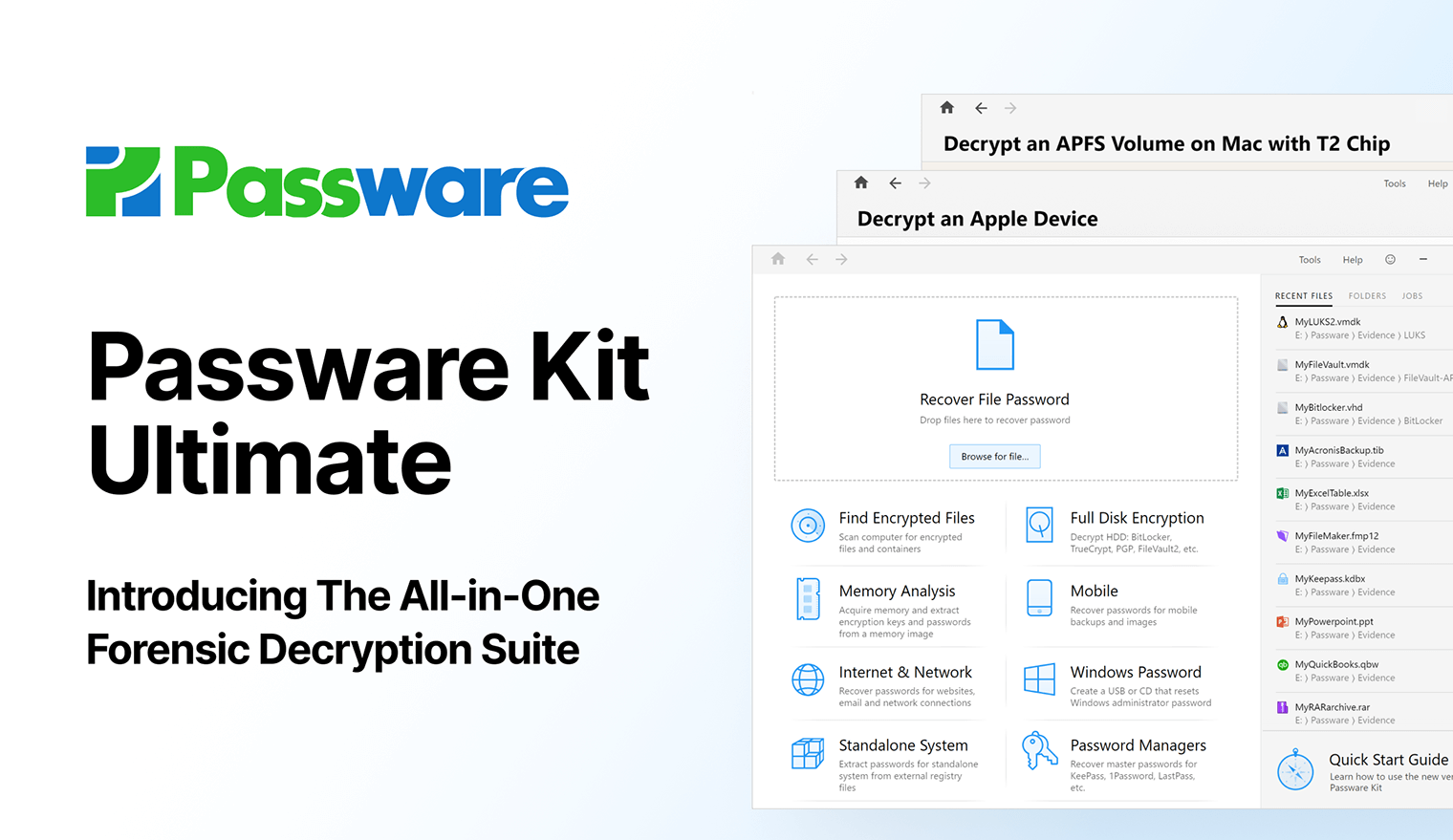 We are excited to announce Passware Kit Ultimate, an all-purpose decryption bundle. It allows investigators to access data from locked mobile devices and computers, encrypted disks and files – all with a single license.
The Passware annual release schedule includes at least four major Passware Kit Forensic and Passware Kit Mobile updates, as well as multiple minor updates and service releases. These products are now maintained as a single Passware Kit Ultimate license.
Passware Kit Ultimate includes Passware Kit Forensic, Passware Kit Mobile, T2 Decryption Add-on, 10 Agents for distributed computing, and Passware Certified Examiner Online Training.
The key capabilities are:
Password recovery for over 340 file types
Recovery of passcodes for over 200 mobile devices
Full disk decryption
Decryption of Macs with Apple T2 Security Chip
Live memory analysis
Hardware acceleration on GPU
Distributed password recovery with 10 Agents for Windows, Linux, Amazon Cloud, and Microsoft Azure